Football Manager 2005 Review
Written By: Chris Pickering EU Version Reviewed

Now, are we all sitting comfortably? The game we once knew as Championship Manager is no more. It's true, that game just does not exist anymore. You know the one, it's ridiculed for looking like an excel spreadsheet, but is just oh so addictive. Now, before a few thousand of you seek out the local highest point to throw yourself off and plummet to your deaths, the story has yet to finish. The developers of the Championship Manager series are still about, but now teaming up with Sega. After a split with Eidos (a split that doesn't seem to have the "real" reason made aware to the general public), where Eidos get to keep the trademark name, Sports Interactive managed to keep a hold of that database of over 200,000 players and the actual game engine. So I think it's safe to say that SI (and Sega of course, who now have a guaranteed huge seller to count on every year, and an immensely talented developer on its hands) got the best out of the deal. Anyway, the first football management game bore out of this new partnership is Football Manager 2005. We've had the finished code for a few weeks now, so we're ready to give you our definitive Gamer Archive verdict.


Blimey, now where do we start eh? I suppose the one major question mark over the game will be the stability of the game as a whole after the mess that Championship Manager 4 arrived in. After that bug ridden mess, that contained many intuitive ideas, the 03-04 update managed to bring about some of the addictive play that we always gained from the SI games. Now having had a few years tweaking the 4th generation engine, Sports Interactive finally has a stable environment to build upon. No glaring mistakes are apparent. No huge bugs with score lines changing in an instant. And definitely no system crashes.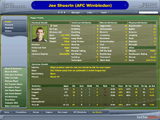 But SI aren't ones to merely bring a update over last years offering, especially with this being the first title in their new partnership with Sega. Now packed to creaking point with over 250,000 players and staff members included in the game, you can waste even more time checking out the teams in the lower leagues in Eastern Europe in the hope of spotting a unique talent before the big clubs do and pick him up for a bargain cheap price. The number of playable leagues and teams takes it's usual increase, now with over 140 playable leagues, including all the major leagues from around the world, as well as a few of the more obscure ones. However, even a game that as many point out, looks remarkably similar to an excel spreadsheet has managed to have a very well implemented graphical touch up. Country flags are present all through out the game, as are certain team strips (English Premiership notwithstanding. EA possess that license.) giving a much more colourful, and dare we say it, attractive screen that you'll spend numerous months staring at. But, even some player photo's are included. Whether this is truly a fabulous idea is down to personal preference. Obviously still seeing your ageing central defender as a fresh faced 18 year old may be bit off putting to some. But the option is there to turn that option off if you so wish.


But lets take a little time to mention the new features included in this seasons version of the "beautiful game". First of all, your now able to make comments to the media whenever you see fit, and about anyone you see fit. For example, your coming up against Alex Ferguson at Manchester United in what's seen as a title decider. A few days before the match you could mention to the media how much you admire Sir Alex as a manager, and claim that Manchester United are the team to beat. But what are the benefits you may ask? Well, that little comment may make the Manchester United players act a little complacent during the upcoming game and perform slightly under their best, giving you an advantage out on the pitch. How about striking up a friendship with Arsene Wenger so he's more likely to loan out one of the many talented youngsters to your fledgling League One side in order to give you that little boost? The little intricacies involved in this new feature are quite immense, and it's the perfect topping to what is starting to become a quite necessary media section to the game. However, it's not totally essential and you can merely wait to be asked before you take part in the media side of the game, and it most certainly doesn't detract from the football side of things. There are still no setting hot dog prices here.


The media side of the game as a whole has taken yet another step towards the realism we all crave. With many more answers your able to give to each piece of media throughout the game, it gives you a much greater personality, and ability to give your manager a greater feeling of depth. Opinions will be asked, managerial decisions on and off the pitch questioned, and just more or less "better" than what we say in the last game from SI. It seems they really are desperate to get better and better every year.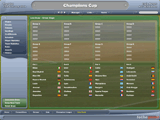 The 2D match action was pretty much universally well received, but always felt a touch too repetitive to be a complete necessity. The simple fact was, once a snippet of action started, you could be quite sure whether or not a goal was forthcoming. Well, this area in particular has been very much improved. It does actually look like real football. The ability to customisation the match day screen, so you can view the game in one half, and the updated league table in the other in order to see how the current result would leave your team in the standings is a masterstroke, and one of the best additions to the title full stop. But in the 90mins of action is where the skill lies. The tactics sliders for each player now make a heck of a lot of difference. The sheer ability for the game to play our the choices you've made, the choices you've been making your team practice time and time again in training is uncanny. It's incredibly easy to set each player to do a totally unique job, and still bring them together as a team utilising these sliders. You can even make on the fly tactical decisions during the game, actions which can undoubtedly change the total flow of the game. Maybe you start the game sitting back, inviting pressure on to yourself for the first half an hour and soaking up pressure. But not conceding because you've got so many players at the back. But then you push the pressing slider up a few notches, and set your team to hit long direct balls and give them more creative freedom. The whole game changes as your players batter the opposition who now find themselves on the back foot, and the energy your players saved in sitting back during the early part bursts out as you blow away the opposition. No I'm not suggesting those tactics are best, or any good at all really, but it gives you an idea of just what you can do.

So, obviously I've made you all well aware that this truly is a return to form as far as Sports Interactive are concerned. The addictive quality, and sheer joy to play that were very much there in abundance in the 97/98 and 01/02 iterations of the game has returned, and been incredibly well complemented by some tweaks, and fantastic additions to the overall package. Eidos are going to have to do create something very special indeed if they're to beat SI at what they do best of all. Lets be honest, SI own the genre. And right here, they've proved why they are held in such high regard.